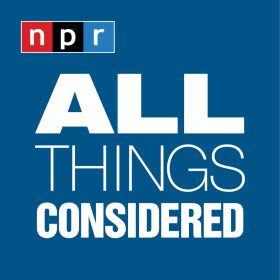 HD 1: Weekday from 3PM-6PM
Each show consists of the biggest stories of the day, thoughtful commentaries, insightful features on the quirky and the mainstream in arts and life, music and entertainment, all brought alive through sound.
Every weekday the two-hour show is hosted by Ailsa Chang, Mary Louise Kelly and Ari Shapiro. In 1977, ATC expanded to seven days a week with a one-hour show on Saturdays and Sundays, which is hosted by Michel Martin.
After record deforestation and environmental deregulation in the past few years, the result of the Brazilian election could very well determine the fate of the Amazon rainforest.

Earlier this month, Merriam Webster added over 300 new words to the dictionary. A number of econ terms were on the list.

Russian President Vladimir Putin has formally annexed four regions of Ukraine. Ukraine responded by submitting an application to quickly ascend into NATO. The moves are an escalation in the conflict.

Inflation is on everyone's minds right now. Gen Z Americans are experiencing it in different and sometimes surprising ways.

Bjork's Fossora peers down into the soil, in a love letter to fungi. "Bubbly and fun" is how she describes her new album.

A medical clinic in Spokane, Wash., has become a destination for those protesting abortion in the name of God. But some of the clinic's Christians allies are contributing a different theological view.

Texas Rangers are investigating the killing of a migrant and the wounding of another. Two men have been arrested in the attack, which took place on a group walking along a remote highway.

The extent of Hurricane Ian's damage isn't fully known yet and officials say it could take days if not longer to get a full sense. But the devastation in Florida is apparent when seen from above.

Republican Sen. Ron Johnson is in a tight race against Democrat Mandela Barnes in the U.S. Senate race in Wisconsin. Rising crime has become a major issue in the campaign for both parties.

NPR's Juana Summers speaks with Barcelona-based reporter Alan Ruiz-Terol about 15 women soccer players renouncing to play for the Spanish national team.