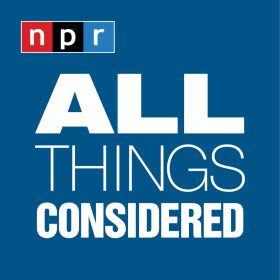 HD 1: Weekday from 3PM-6PM
Each show consists of the biggest stories of the day, thoughtful commentaries, insightful features on the quirky and the mainstream in arts and life, music and entertainment, all brought alive through sound. Every weekday the two-hour show is hosted by Robert Siegel, Michele Norris and Melissa Block. There is also a one-hour show on Saturdays and Sundays.
The last of 98 victims of the condominium collapse in Surfside, Fla., has been identified after a long rescue effort. NPR's Ailsa Chang speaks with grief counselor Heather Winters about what's next.

Provincetown, Mass., has one of the highest vaccination rates in the country — so why did it just institute an indoor mask mandate after a big spike in positive COVID-19 tests?

Last week, the NFL announcing penalties for unvaccinated players next season. NPR's Ailsa Chang talked to Defector reporter Kalyn Kahler about how the policy works and what's at stakes for players.

In Silicon Valley, Google has acquired billions of dollars of property that's at risk for flooding as sea levels continue to rise. That's raising questions about whether it's safe to build at all.

NPR's Ari Shapiro talks with Dr. Anthony Fauci, NIAID director and the president's chief medical adviser, about the CDC's new mask guidance and potential vaccine mandates.

The Select Committee investigating the Jan. 6 attack on the U.S. Capitol began its work Tuesday. Four police officers who defended the building that day testified.

A Georgia man accused of killing eight people at Atlanta-area spas received four life sentences without parole. He faces four other murder charges in Atlanta where he could receive the death penalty.

Simone Biles pulled out of the women's gymnastics Olympics team finals competition for mental health reasons. A winner of five Olympic medals, Biles' reason was the pressure she carries.

The House Select Committee investigating the Capitol insurrection held its first hearing Tuesday. We look back on how that day unfolded.

After the U.S. Capitol riot, there was a sense that the Jan. 6 cases would be straightforward. But defense attorneys describe prosecutors as overwhelmed by evidence and struggling to build cases.