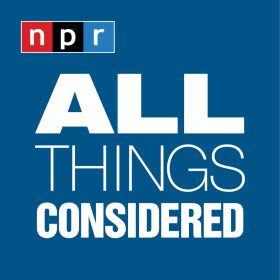 HD 1: Weekday from 3PM-6PM
Each show consists of the biggest stories of the day, thoughtful commentaries, insightful features on the quirky and the mainstream in arts and life, music and entertainment, all brought alive through sound. Every weekday the two-hour show is hosted by Robert Siegel, Michele Norris and Melissa Block. There is also a one-hour show on Saturdays and Sundays.
When you barely make the playoffs, nobody expects you to stay in the playoffs. The Chicago Sky defied expectations, becoming the WNBA champions Sunday night.

Fewer cars were on the road during pandemic lockdowns. And for Maine's frogs and salamanders, that translated to far fewer roadkill deaths.

Veterans, along with the rest of the country, see long waits for mental health and other specialty care. Veterans Affairs has announced it will redesign how it schedules and pays for private care.

NPR's Sarah McCammon speaks with Yvens Rumbold, director of communications for Policite in Haiti, about the security situation in the country after 17 missionaries were kidnapped by a local gang.

Michele Carew's 14-year career as an election administrator is soon ending. Carew resigned after supporters of former president Trump pressured her out of her position with unfounded claims of fraud.

NPR's Sarah McCammon speaks with Colin Powell's former Chief of Staff Col. Bill Smullen about his good friend's career and legacy.

What's it like to live with ghosts? What if you sense them, but you're not quite sure they're there? These questions are at the heart of a new picture book illustrated and written by Oliver Jeffers.

Officials have known for years that Benton Harbor, Mich., has high levels of lead in the water. Now, Gov. Gretchen Whitmer has set an 18-month goal for replacing the lead pipes throughout the city.

Dayton, Ohio, was once desperate for American Rescue Plan money to help with basic services. Now the city finds itself awash in funds, and looking for creative ways to spend the COVID-19 aid largesse.

Maritime High School in Washington is preparing future marine scientists and ship captains. Most high schools take the occasional field trip. But few turn a catamaran into a floating classroom.