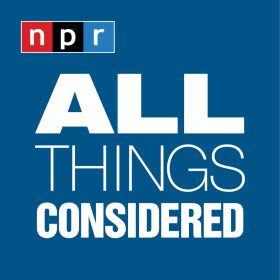 HD 1: Weekday from 3PM-6PM
Each show consists of the biggest stories of the day, thoughtful commentaries, insightful features on the quirky and the mainstream in arts and life, music and entertainment, all brought alive through sound.
Every weekday the two-hour show is hosted by Ailsa Chang, Mary Louise Kelly and Ari Shapiro. In 1977, ATC expanded to seven days a week with a one-hour show on Saturdays and Sundays, which is hosted by Michel Martin.
Following the most recent mass shootings, NPR's Michel Martin asks Dr. Deborah Prothrow-Stith, of Charles R. Drew University of Medicine and Science, how public health officials view this moment.

NPR's Michel Martin speaks with actor and comedian Jenny Slate about her new film Marcel the Shell With Shoes On.

NPR's Michel Martin speaks with Melissa Murray, law professor at NYU, about the possible implications of the Supreme Court's reversal of Roe v. Wade for other constitutional rights.

Opponents of abortion rights are seeking to take the fight to all 50 states, now that the Supreme Court has overturned Roe v. Wade.

Following the passage of the first gun control measures in decades, NPR's Michel Martin asks Columbia Law professor Jeffrey Fagan about how the impact of firearms laws can be measured.

Kentucky's abortion ban went into effect immediately when the U.S. Supreme Court overturned Roe v. Wade on Friday morning. Opponents and supporters of the ban are now grappling with new realities.

FX's The Old Man can be predictable, but the performance by star Jeff Bridges — who plays a retired CIA operative living under a fake name — makes it worthwhile.

The clinic at the center of the Supreme Court's Roe decision is Jackson Women's Health Organization. The last clinic to provide abortions in Mississippi, it lost its fight to preserve abortion rights.

NPR's Ailsa Chang speaks with chair of the National Right to Life board of directors Lynda Bell about the reaction from anti-abortion rights activists over the Supreme Court ruling to overturn 'Roe.'

The White House has reacted somberly to the Supreme Court ruling that has overturned Roe v. Wade. President Biden said there's little he can do on his own to change the situation.