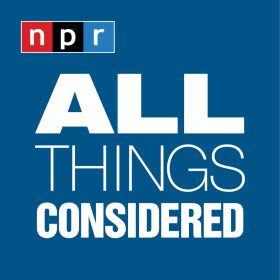 HD 1: Weekday from 3PM-6PM
Each show consists of the biggest stories of the day, thoughtful commentaries, insightful features on the quirky and the mainstream in arts and life, music and entertainment, all brought alive through sound. Every weekday the two-hour show is hosted by Robert Siegel, Michele Norris and Melissa Block. There is also a one-hour show on Saturdays and Sundays.
A new CDC study finds that people who provide unpaid care for their children or adult loved ones are twice as likely as noncaregivers to have experienced depression or anxiety, or thoughts of suicide.

The president says the U.S. will respond if it keeps getting hit with cyber attacks linked to Russia. But Putin has shown little interest in combatting cyber crimes called 'ransomware-as-a-service.'

Freshman New York Rep. Jamaal Bowman joins a class of younger Black lawmakers working to broaden representation and progressive power in Congress, as well as in the Democratic Party.

Two literary stars from Nigeria are engaging in a very public feud — a fight that is both personal and also enfolds bigger questions about feminism, gender identity and social media.

NPR's Ari Shapiro speaks with The Root producer Felice León about colorism and the lack of dark-skinned Afro-Latinx representation in the film In the Heights.

A large sinkhole has been growing at a farm in Mexico since May. It's already swallowed a house, and two dogs had to be rescued from the hole last week.

NPR's Ari Shapiro speaks with New York Times columnist Jamelle Bouie and Hoover Instiution fellow Lanhee Chen about the most pressing issues awaiting President Biden in Washington.

Joe Biden wrapped up his first international trip as president with a meeting with Russian President Putin. Biden's trip included a meeting of the G-7 member nations, a NATO summit and an E.U. summit.

NPR's Audie Cornish speaks with DEI consultant Lily Zheng about how the diversity, equity and inclusion industry has changed after 2020's racial injustice protests and how companies are responding.

The street violence between Israeli Jews and Arabs inside the neighborhoods they've been sharing has calmed, but the scars remain — and so have attitudes about any chance for coexistence.