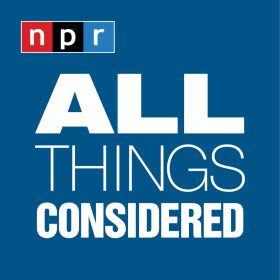 HD 1: Weekday from 3PM-6PM
Each show consists of the biggest stories of the day, thoughtful commentaries, insightful features on the quirky and the mainstream in arts and life, music and entertainment, all brought alive through sound. Every weekday the two-hour show is hosted by Robert Siegel, Michele Norris and Melissa Block. There is also a one-hour show on Saturdays and Sundays.
NPR's Michel Martin speaks with U.S. Sen. Tammy Duckworth (D-Ill.) about the Support Through Loss Act, a bill she introduced earlier this week with Rep. Ayanna Pressley (D-Mass.).

The U.S. has thousands of National Historic Landmarks, but few commemorate Latino heritage. The Duranguito neighborhood of El Paso, known as the "Ellis Island" of the South, is looking to change that.

NPR's Michel Martin speaks with Marcus Mitchell, community outreach manager with the Institute for Nonviolence Chicago, about his work to prevent gun violence in his community.

As homicide rates spike nationwide, NPR's Michel Martin speaks with Steve Adler, mayor of Austin, Texas, about how his city is handling violent crime and gun violence.

A $26-billion settlement has been reached for companies involved in the prescription opioid epidemic. But what happens next?

NPR's Michel Martin speaks with L.A. County Public Health Director Barbara Ferrer about her county's recent surge in COVID-19 cases and what's being done about it.

Skateboarding is one of four new sports added to the Olympics this year. For skateboarders who have long loved their rebel status, performing in the mainstream Olympics is just a bit different.

The new chief, Tom Manger, said the Jan. 6 Capitol insurrection should not define the department and that necessary changes to its procedures have been made in the months since.

NPR's Mary Louise Kelly speaks with CIA Director William Burns about Russia, China and what keeps him up at night.

NPR's Ailsa Chang speaks with Radiolab producer Rachael Cusick about her search for Elizabeth Kübler-Ross, the psychiatrist behind the five stages of grief.