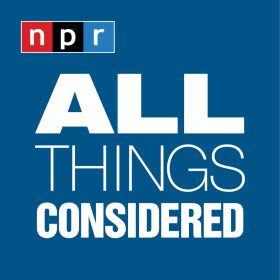 HD 1: Weekday from 3PM-6PM
Each show consists of the biggest stories of the day, thoughtful commentaries, insightful features on the quirky and the mainstream in arts and life, music and entertainment, all brought alive through sound. Every weekday the two-hour show is hosted by Robert Siegel, Michele Norris and Melissa Block. There is also a one-hour show on Saturdays and Sundays.
The nearly 10-minute long song "Bat Out of Hell" opens the classic album by the late singer Meat Loaf. Music academics Elizabeth Wollman and Emily Gale take a close look at the epic track.

NPR's Ari Shapiro speaks with Washington Post sports reporter Liz Clarke to get an update on the Australian Open, the first Grand Slam of 2022.

After a video call with European allies, President Biden said there's unanimity on the threat posed by Russian troops on Ukraine's borders. Some allies are sending weapons to Ukraine. Others are not.

America's librarians announce their top children's book picks virtually on Monday. Among the honors they're awarding are the 2021 Newbery and Caldecott medals.

Opening arguments began in the trial of three former Minneapolis police officers who are being accused of violating George Floyd's civil rights when he was detained and killed by Derek Chauvin.

NPR's Asma Khalid talks with Jason Gay of The Wall Street Journal about what may have been the greatest weekend in NFL playoff history.

President Biden confers with U.S. allies on Ukraine on Monday, as the U.S. pulls diplomatic families out of Kyiv and weighs beefing up troop deployments in the region over fears of a Russian invasion.

NPR's Asma Khalid speaks with retired U.S. Navy Admiral James Stavridis about how to address a potential Russian invasion of Ukraine.

A majority of the Afghans who fled to the U.S. when the Taliban took over last fall have now left the military bases where they've been living and are in the process of finding permanent homes.

NPR's Asma Khalid talks with Ed Augustin, correspondent for The Guardian in Cuba, about the ongoing trials against hundreds of people who participated in mass protests in the summer of 2021.