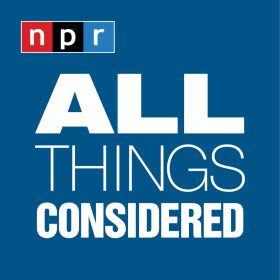 HD 1: Weekday from 3PM-6PM
Each show consists of the biggest stories of the day, thoughtful commentaries, insightful features on the quirky and the mainstream in arts and life, music and entertainment, all brought alive through sound. Every weekday the two-hour show is hosted by Robert Siegel, Michele Norris and Melissa Block. There is also a one-hour show on Saturdays and Sundays.
A new CDC study finds that people who provide unpaid care for their children or adult loved ones are twice as likely as noncaregivers to have experienced depression or anxiety, or thoughts of suicide.

The president says the U.S. will respond if it keeps getting hit with cyber attacks linked to Russia. But Putin has shown little interest in combatting cyber crimes called 'ransomware-as-a-service.'

Intelligence agencies from the U.S. and Russia are both trying to figure out what the other side is going to say, a longtime CIA operative says. China is probably trying to listen in, too.

Israeli nationalists marched through Palestinian neighborhoods of Jerusalem Tuesday, heightening tensions and providing a first test for the new Israeli government.

The CDC has declared that the dangerous new variant first spotted in India as a "variant of concern," meaning it poses a significant threat to unvaccinated people.

House Democrats are ramping up their probes into the Jan. 6 attack on the Capitol. They're also issuing new findings of a pressure campaign by former President Trump to overturn election results.

Actor Tom Hanks wrote an essay calling for more widespread teaching of Black American history, leading to NPR's Eric Deggans' response: Tom Hanks Is A Non-Racist. It's Time For Him To Be Anti-Racist.

Iranians vote for a president on Friday. In the streets of Tehran the expectation is that a hardliner will win, in part for lack of many other choices.

The U.S. and E.U. have called a truce in a long-running trade dispute involving rivals Boeing and Airbus. The fight sparked turbulence for unrelated products like Scotch whisky and Spanish olive oil.

NPR's Mary Louise Kelly and Russian journalist Vladimir Pozner discuss how Russia is covering the Biden-Putin summit and how Putin may navigate accusations of cyberattacks and human rights violations.