Students Give Back To The Community Instead Of The Landfill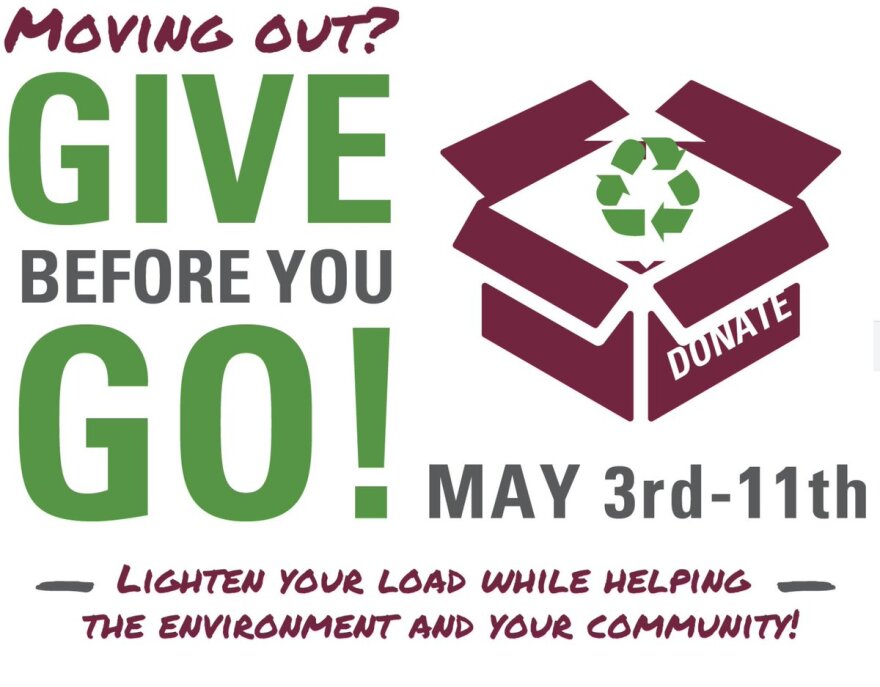 Across campus, spaces are outlined by tape and signs showing Southern Illinois University Carbondale students they can donate their gently used appliances, clothes, and dorm furniture instead of throwing them in the landfill.
The opportunity is a part of this year's "Give Before You Go" initiative. Coordinated in collaboration with SIU Housing, the Sustainability Office and local stakeholders, the event's goal is to divert unwanted items to a new home instead of the landfill, according to the Sustainability Program Coordinator Karen Schauwecker.
Drop-off locations include Wall and Grand Housing, University Hall, Evergreen Terrace and Thompson Point, Schauwecker said.
In a rural and spacious area like southern Illinois residents can adopt an out-of-sight, out-of-mind mentality about what happens to their trash after it's thrown away.
"Once we throw those items in the trash we don't really know what happens to them necessarily," Schauwecker said. "And we don't necessarily consider the overall impact of our actions when we're all throwing away four or five bags of trash per week."
The consistent flow of trash adds up and increases the amount of methane emitted into the atmosphere by landfills. Some items thrown into the trash also won't decompose for hundreds of years or have toxic environmental implications, Schauwecker said.
"Moving towards [becoming] a society that thinks about using our natural resources wisely, we need to consider all of the resources and energy that went into making a particular product," Schauwecker said. "If it's still able to be used by someone we should keep that product and use it as long as possible."
Until Saturday May 11, students can donate their unwanted items to the sustainability initiative Schauwecker said. Throughout the week, local stakeholders including Keep Carbondale Beautiful, Campus Ministries, and the Rotary Clubs of Jackson and Williamson Counties Sunset will come to the donation sites and begin sorting and weighing items.
"Last year we donated over 9,000 pounds of clothing, furniture, appliances, shoes, beddings, and towels," Schauwecker said.
Over 1000 food items and 22 winter coats were also donated in 2018. Schauwecker said the collaboration between campus and local organizations is key to making the event as successful as it is.
After the event, groups can take a few months to organize and distribute the donations to the proper places. The motivation for local stakeholders is to make sure these items are put to use, Schauwecker said.
"You can guarantee that the team makes sure that the items are going to be used, that they are going to find a home," she said.